In honor of Pour Your Heart Out Wednesday, I'll share a dirty little (or not-so-little) secret. Lately, I've been seeing green. Not good-for-the-planet green, either.
For two weeks I've been reading pre-BlogHer bluster and post-BlogHer highlights. And I'm jealous that I missed it.
I wanted to go. I really, really, really wanted to go. (Picture me stomping one foot, hands on hips like a bratty four-year-old now.) I wanted to dress up and have drinks with women who love to write, and who can turn everyday doldrums and drama into A+ entertainment.
I don't so much care about swag bags, or meetings with company reps.
I don't so much care that I missed San Diego, which is a lovely place with stand-out Mexican food.
I don't worry I can't catch up with the latest blogging gadgets and gizmos. My friends online will keep me up-to-date on all that. (Thanks to Nicole at Moments that Define Life; Liz and Kristen at Eli Rose Social Media Marketing;  Jessica at My Time As Mom; Christina Katz, the Writer's Workout Coach, and Courtney at The Mommy Matters) 
Why so green, then, you ask???
I envy the time to think about work without interruption. It's a 7-hour flight from here to San Diego. 7 hours is more work time than I had all week.
I envy the opportunity to meet in person the people who make blogging fun and rewarding. (Like our hostess for today's linkup, Shell at Things I Can't Say; Nichole at In these Small Moments and the hostess of tomorrow's festivities, the cool cat behind Mama Kat's Losin' It)
Exclusive private parties? Who cares.
I'd like to hear all these ladies' real voices, see their quirky and not-so-quirky mannerisms, listen to them laugh. Those are the currency of friendship in-real-life, and I'm feeling a little bit bankrupt right now.

Oh, and I'd like to ogle (maybe even covet) their shoes. I simply love shoes.
Alas, the timing didn't work. At all. This wasn't my year for BlogHer for lots of reasons. And jealousy isn't all bad. Envious emotions are signals that smart people can leverage to learn more about what they value and to make better (more satisfying) decisions. (Read more about that on my other blog, The Psychologist Next Door)

Next year, I'll be at BlogHer in NYC. I'll wear something green so you'll recognize me.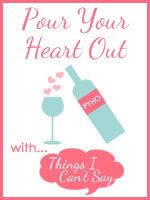 Image credit: GREEN SHOES by Antonsokolov